For more than two years, Prodigy Disc has worked to develop the ACE Line, a brand new line of discs created with expansion into new and growing disc golf markets in mind. The full line is designed and developed by Prodigy and manufactured in our own facility overseas. 
We worked closely with top professionals in development and considered feedback from vendors, fans and players alike. The ACE Line will offer high-quality discs for all skill levels at an accessible price point.
ACE Line discs will have a similar naming system to our flagship discs, making it easy for players and vendors to understand and tailor to their skill set or customers. Each disc will fall into one of four categories--D Model (Distance Driver), F Model (Fairway Driver), M Model (Midrange Disc) and P Model (Putt & Approach disc)--and each category is planned to have five levels of stability. Different stabilities will include S (Stable), OS (Overstable) and US (Understable), along with OS+ and US+.
The ACE Line will feature two plastics, BaseGrip and DuraFlex. The first discs will be released in BaseGrip Plastic, a base level plastic similar to our 300 and 350G Plastics. BaseGrip offers a sure grip in all weather conditions and finds a great balance between stiffness and the ability to wear-in to perfection. It will be a highly cost-effective option that still offers incredible quality. DuraFlex provides a good premium plastic option that is durable enough to stand the test of time and the elements while still providing excellent grip. Be on the look out for more weight options to come as well.
We are introducing the ACE Line with 4 new discs: the D Model S, F Model S, M Model OS, and P Model S, all in BaseGrip Plastic. Prodigy pros such as Seppo Paju and Chris Dickerson have already taken an instant liking to some of these models adding them to their bag! Chris used the P Model S during his back-to-back Disc Golf Pro Tour Championship win at the end of this season. This lineup of discs will be a great introduction to the new line, offering players a range of discs to try. Learn more about each model below.
With the ACE Line's launch also comes a three-disc starter set, perfect for a quick introduction into the new line or for inviting a new player out onto the course. 
ACE LINE D MODEL S - BASEGRIP PLASTIC
Like a Swiss Army knife, the utility of the D Model S is endless, because of its stable flight characteristics. Thrown with power, this disc will ride a slow turn before having a soft fade. Players with less power, or throwing it with more finesse, will get a straighter flight out of the disc before it softly fades out. Whether it's a long gliding hyzer, a powerful hyzer flip, or a beautifully shaped "S" line, the D Model S can do it all. D Model discs are built for maximum distance and have a sharp nose and slight dome for increased speed and glide. They also feature medium-depth rim to allow a comfortable grip across different hand sizes.
Flight Numbers: 13 | 6 | 0 | 2
Weights: 170 - 175 grams


ACE LINE F MODEL S - BASEGRIP PLASTIC
The F Model S has a stable flight and is ready to navigate any fairway with pinpoint accuracy and incredible control. This disc will be perfect for learning how to throw hyzerflip shots that fly straight as an arrow. Thrown hard with a slight hyzer angle, the disc will pop up to flat and ride straight with a mild fade. Players can also get a slight turn by throwing it flat. Just pick your line and hit the target. F Model discs are a great introduction into "drivers." They're made for controlled, accurate shots at a long distance and have a smaller rim for a comfortable grip.
Flight Numbers: 10 | 5 | 1 | 3
Weights: 170 - 176 grams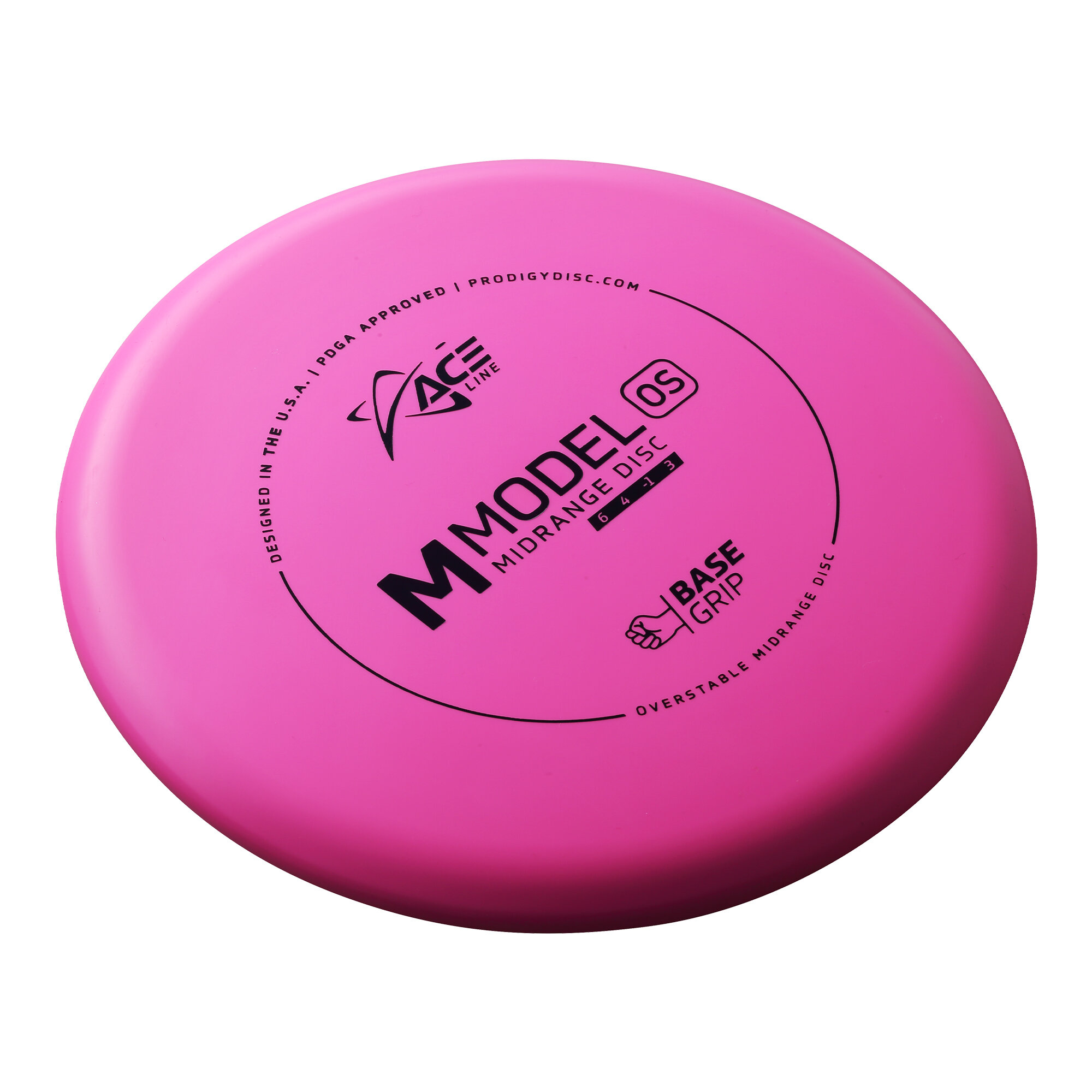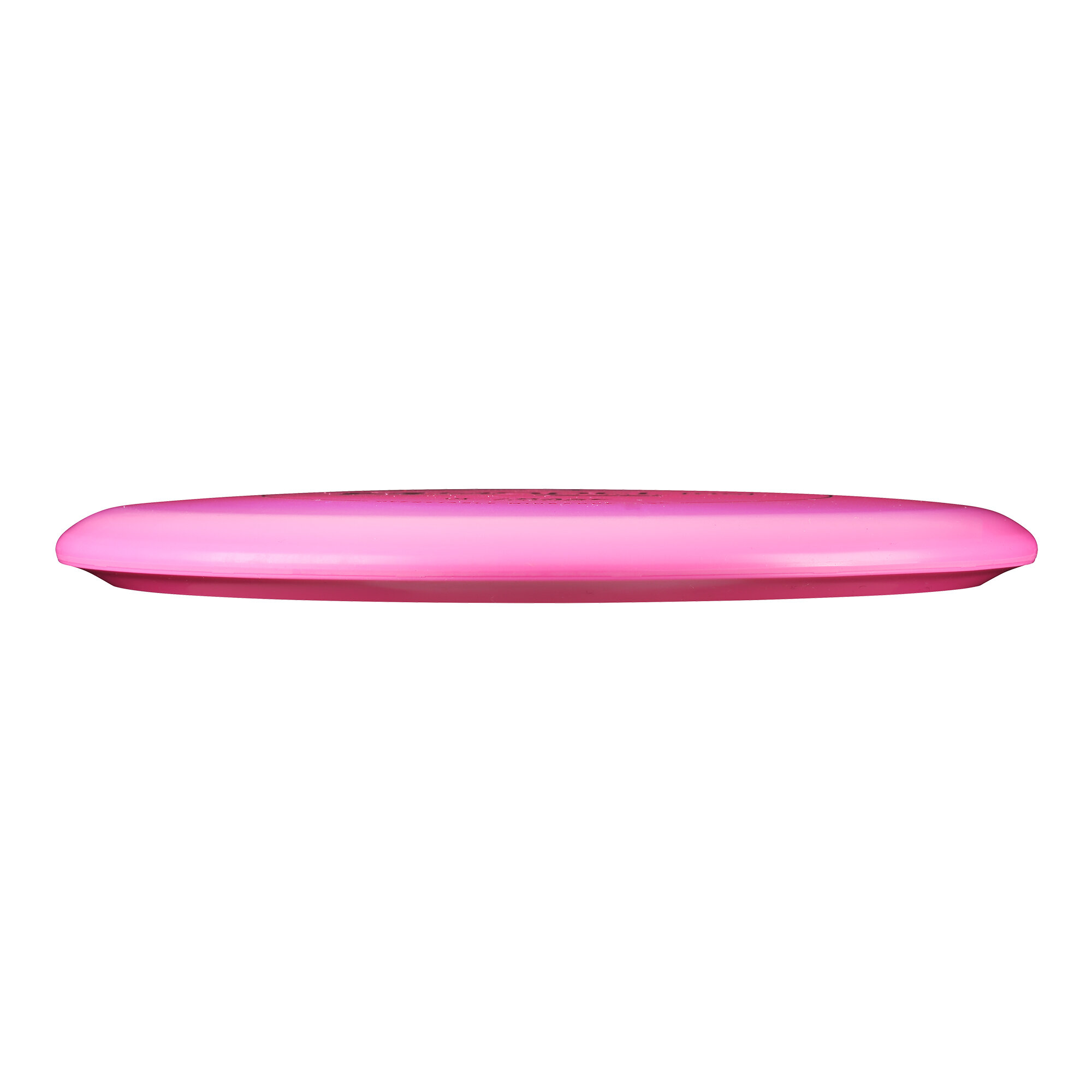 ACE LINE M MODEL OS - BASEGRIP PLASTIC
The M Model OS is an overstable midrange disc that will bring consistency to your bag. It has a reliable finish you can count on in calm and windy conditions. As you learn this disc, you will be able to count on the consistent fade for accurate shots each round. With a slightly larger diameter than drivers, M Model midrange discs are designed for control and provide a great tool for players to learn different disc flights on both drives and approach shots.
Flight Numbers: 6 | 4 | -1 | 3
Weights: 177 - 180 grams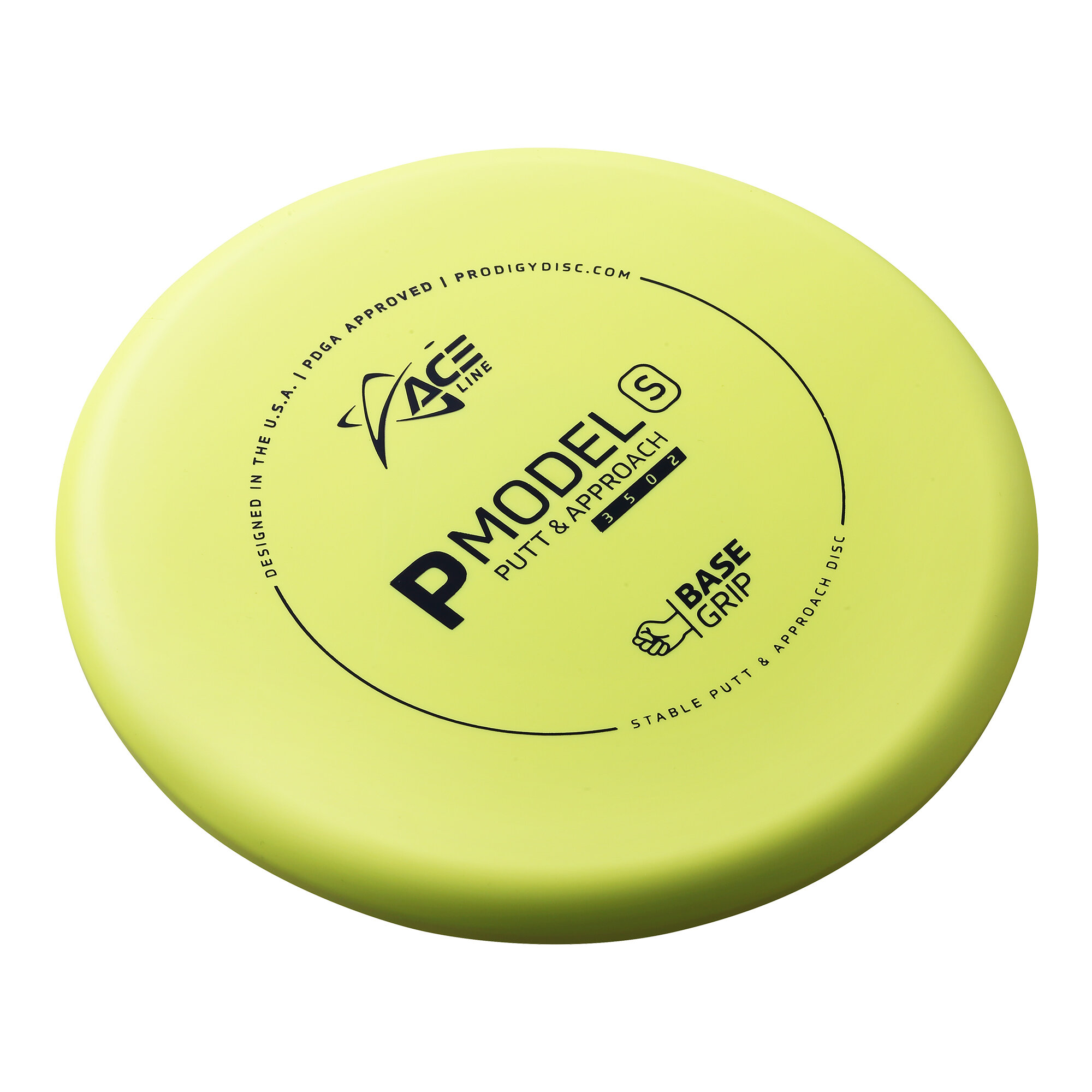 ACE LINE P MODEL S - BASEGRIP PLASTIC
The P Model S may have more glide than any other putter on the market coupled with a straight flight and subtle fade. With a slimmer profile and small bead on the rim, it feels great in the hand and offers a consistent, clean release for drives, approaches, and putts. The glide makes it a great putter, as it stays in the air to find chains from short and longer distances. It also has a soft fade, so you can trust it is going to finish toward the basket. Its comfortable grip, impressive glide, and reliability will make it an instant favorite. P Model discs are made for accuracy at close range while offering elite glide and comfort in the hand. These discs will help you find a go-to for short drives, approaches, and putts.
Flight Numbers: 3 | 5 | 0 | 2
Weights: 170 - 175 grams