Prodigy Disc Canada has been in existence since 2016. We look forward to providing our Canadian customers with great products and great customer service, delivered to you directly from Canada. At Prodigy Canada we offer all the products that you need to set up and play disc golf.
Management Team - Core Team - Tournament Team - Ambassador Team - Protege Team - ASL Team - Street Team
Prodigy Disc was founded by World Champion disc golfers who strive to inject innovation into the sport. Our original mission was to develop a more consistent range of "golf discs". We set out to create and produce discs that would offer longer flight and improved accuracy amongst players of all skill levels and throwing power.
In 2013, after 2 years of successful testing, Prodigy Disc introduced a line of discs to the harshest critics - the highest ranked players in the world. The feedback was overwhelmingly positive, and we have since surpassed what we originally set out to do. Prodigy Disc now produces a popular and diverse selection of discs from Distance Drivers to Putt & Approach discs that allow players to perform their best on every shot, and in every situation. We now sponsor over 150 players, including some of the highest ranked players in the world.
Prodigy Disc has continued to push the boundaries of what defines a modern disc golf manufacturer, expanding into forward-thinking equipment, accessories, events and course design. We offer high-quality, innovative disc golf targets, bags, and accessories alongside our discs. Our latest venture, Prodigy Apparel, has utilized athlete insights in collaboration with seasoned sportswear designers to create performance apparel engineered specifically to the technical needs of disc golfers.
PRODIGY DISC FLIGHT CHART
The Prodigy Disc numbering system is designed to help players figure out what disc they need for each shot quickly and easily. The letter in the model name represents the type of disc. For example, the 'M' in M4 stands for Midrange Disc. The number in the model name represents the stability of the flight path. Our models range from 1 to 7 - '1'being the most over stable and '7' being the most understable. Therefore, the "4" in M4 means that it falls in the middle of our stability rating, making it a stable to understable disc, depending on the model range in that series.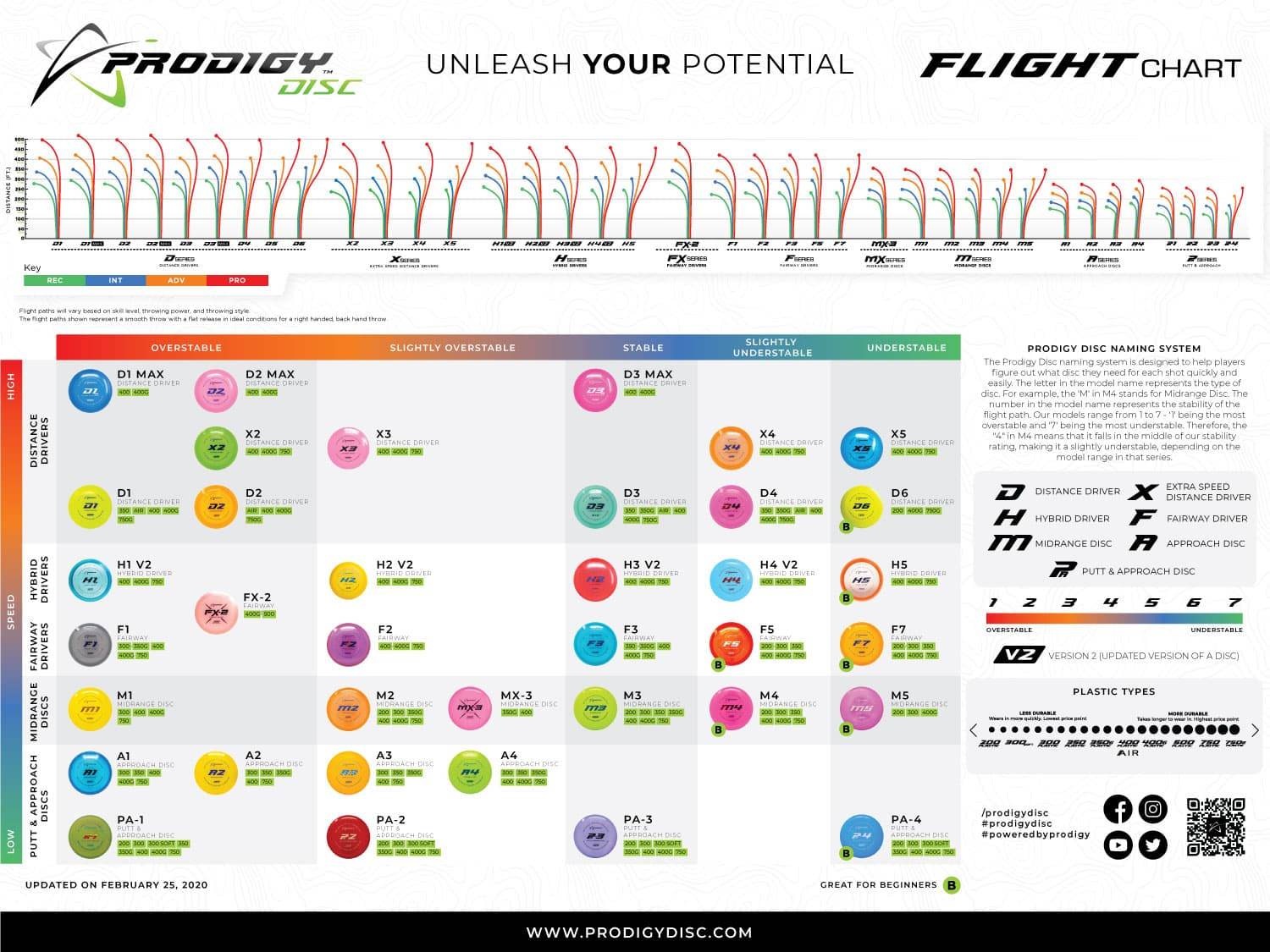 PRODIGY PLASTIC PROFILES
We manufacturer our discs in array of different plastic types. These plastic profiles all have unique characteristics, ranging from different levels of grip, tackiness, durability, workability, and price. Below you can find a description of each of our plastics profiles.